Veeco Instruments announced that Acken Optoelectronics will receive the first shipment of Veeco's new GENxcel™ Molecular Beam Epitaxy (MBE) System.
The GENxcel system expands on the design of Veeco's GENxplor by providing a lower cost, fully integrated deposition system that creates high quality epitaxial layers of substrates up to 4" in diameter. Acken Optoelectronics Ltd. is a Chinese start-up company specializing in development of high-speed communication devices including advanced optoelectronic communication, RF switching, and low noise amplifiers for mobile applications. The research is being led by Dr. Yiqiao Chen to capture the 5G mobile communication market. Dr. Chen utilized Veeco's advanced technology solutions at Columbia University where he conducted research and development on a Veeco GENII MBE system.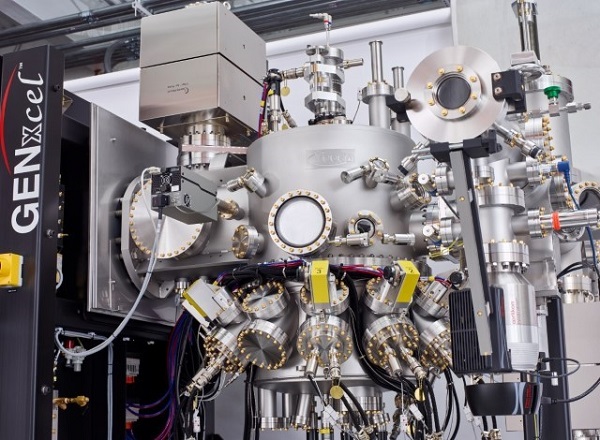 (Image: Veeco Instruments)
"Veeco's high quality and high performance MBE systems combined with their local support are unparalleled in the Chinese market," said Dr Chen. "We are very excited to receive the first GENxcel system and are confident Veeco's systems and source technology will best enable us to advance our compound semiconductor development."
The new GENxcel system expands on the award-winning GENxplor™, the best-selling MBE system since its introduction in August 2013, with high-quality epitaxial growth on single 4" substrates compared to the 3" capabilities of the GENxplor system. The GENxcel system features an easy-to-use manual transfer system, 12 source ports and modern electronics fully integrated into a single frame design for maximum laboratory footprint efficiency.
"Many customers were asking Veeco for a modern, manual transfer, four inch wafer, MBE system. The obvious choice was to leverage the market validated design principles of the GENxplor into a larger system." said Gerry Blumenstock, Vice President and General Manager, Veeco's MBE Business Unit. "The GENxcel is the ideal system to fulfill this market need for both R&D and pilot-production. We are so proud to work with Dr. Chen and his team at Acken to advance his cutting edge research."